Le nostre alternative al puzzle a forma di cuore
Descrizione del prodotto
Il foto puzzle da 600 pezzi affascina per la sua particolare forma a cuore. È ideale per manifestare il proprio affetto ad una persona cara. Vuole fare una dichiarazione d'amore fuori dal comune? È alla ricerca di un'idea perfetta per fare una proposta di matrimonio? O vuole semplicemente dire "grazie"? Lo faccia con il nostro foto puzzle a forma di cuore da 600 pezzi! Nel processo di ordinazione potrà trovare tutti i modelli di scatola adatti al tema "amore", così come la cornice su misura per il Suo puzzle con un pregiato passepartout nero.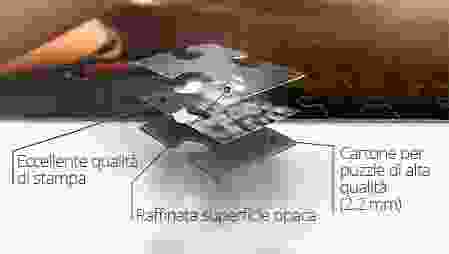 Età consigliata
Imballaggio
Il foto puzzle viene consegnato al cliente smontato in singoli pezzi. Questi ultimi si trovano all' interno di un sacchetto di plastica trasparente, che a sua volta è posto all'interno della scatola del puzzle.
Dimensione della scatola: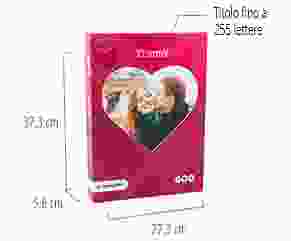 Dimensione del tassello del puzzle:
Proporzione:
Consigli & idee
Recommended minimum resolution of the image
La qualità di stampa del Suo foto puzzle dipende soprattutto dalla risoluzione della foto. Per un foto puzzle da 600 pezzi, Le consigliamo il seguente formato (LxA): 
4000 x 3409 pixel
Importante: si assicuri, che la foto non sia sfocata, sottoesposta e che non abbia difetti di tonalità.
Ispirazione
Subito dopo aver caricato la foto, potrà vedere, nell'anteprima del processo d'ordine guidato, quale parte dell'immagine a forma di cuore verrà stampata sulla scatola del puzzle. Può spostare la cornice di selezione a Suo piacimento.
Occasioni speciali
San Valentino
Festa della mamma/Festa del papà
Matrimonio/Anniversario
Proposta di matrimonio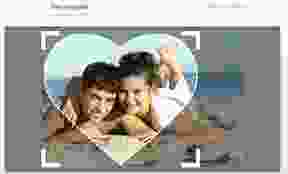 Vasta gamma di puzzle
Scelga il Suo fotopuzzle:
Accessori
Valutazioni
Le recensioni sottostanti si riferiscono unicamente al prodotto ordinato e alle sue caratteristiche. Solo i clienti che hanno realmente ordinato il prodotto, potranno esprimere la propria valutazione.
FAQ